With an imminent restaurant launch in Chelsea, celebrity chef Marcus Samuelsson is only getting busier. But with everything the chef, restaurateur, television host and cookbook author does—in and out of the kitchen—he's always intent on preserving and elevating Black food and the people behind these rich traditions.
For Samuelsson, this mission means actively supporting other Black professionals in the culinary industry—whether it's through pop-ups with guest chefs at his restaurants around the world, or the Black Businesses Matter Matching Fund that supports businesses affected by COVID-19. His latest cookbook, The Rise, features more than 150 recipes that honor not just chefs, but other historians, writers and experts in food.
"Without activists, without journalists, without the community as a whole, there wouldn't be a food community," says Samuelsson. "When I was coming up, there was one way to become a chef. Today, there's many ways to become a chef—and be part of the food community. No matter where you are [in this world], there is a way to support, there is a way to aspire, there is a way to participate."
One of the cookbook's recipes, which Samuelsson shares with Sweet July, is a Spice-Roasted Black Cod and Carrots with Benne Seed Dressing, inspired by Stephen Satterfield—food writer, founder of Whetstone Media and host of the Netflix docuseries, High on the Hog.
"Stephen's worked in all aspects in the industry, and he is going to continue to bring other people into this space," says Samuelsson. "I thought specifically about this recipe for him because his journey is very worldly; it covers the West Coast, all the way to South Africa and everything in between. And that's the story of Black chefs. We're not monolithic."
Get Samuelsson's Spice-Roasted Black Cod and Carrots recipe (honoring Stephen Satterfield) below!


Plus: Looking for the perfect wine to pair with this dish? Sweet July's wine consultant Julia Coney suggests Gamay, a grape from Beaujolais grown predominantly in France, "but is seeing a surge in America." Coney adds, "Cru Beaujolais works with a variety of dishes. Known for its fruity and light flavors, Gamay works well with cod and will create a balance with the Benne dressing and all the earthy spices."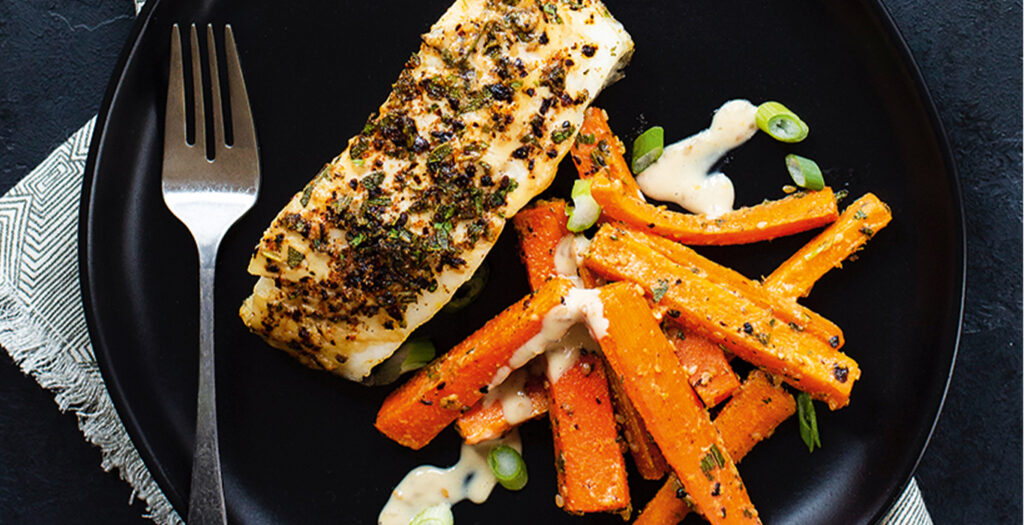 Marcus Samuelsson's Spice Roasted Black Cod And Carrots
Excerpted from THE RISE by Marcus Samuelsson with Osayi Endolyn. Recipes with Yewande Komolafe and Tamie Cook. Copyright © 2020 by Marcus Samuelsson. Photographs by Angie Mosier. Used with permission of Voracious, an imprint of Little, Brown and Company.
2 tbsp chopped fresh herbs, any combination of basil, parsley, thyme, and rosemary
1 1/2 tsp kosher salt
1 tsp Urfa pepper flakes
1/2 tsp berbere seasoning
1/2 tsp ground cardamom
1/2 tsp ground coriander
1 pound carrots, cut into 3-inch-long batons
1/2 cup Benne Seed Dressing (see below)
4 (6-ounce) black cod fillets, skin on
2 scallions, sliced thinly on the bias
FOR THE BENNE SEED DRESSING
1 tbsp sorghum syrup or wildflower honey
2 cloves garlic, grated
Grated zest of 1 lemon
1/4 cup fresh lemon juice
2 tbsp water
2 tbsp benne seed paste (or tahini)
1/4 cup sesame seed oil
Kosher salt and cracked black pepper
2 tbsp toasted benne seeds (or sesame seeds)
Preheat the oven to 375°F.

Place the chopped herbs, salt, Urfa pepper, berbere, cardamom and coriander in a small bowl and stir to combine.

Place the carrots and 2 tablespoons of the benne seed dressing in a medium bowl and toss to coat. Add half of the spice-herb mixture and toss to coat. Place the carrots on a baking sheet in one layer and roast for 10 minutes.

FOR THE BENNE SEED DRESSING: In a blender, combine the sorghum syrup, garlic, lemon zest, juice and water. In a mixing bowl, combine the benne seed paste and oil. With the blender going, add the oil mixture in a thin stream and blend until the vinaigrette comes together and emulsifies. Season with salt and cracked black pepper and stir in the benne seeds.

Meanwhile, brush the fish with 2 tablespoons of the dressing and sprinkle evenly with the remaining spice-herb mixture. Set aside at room temperature.

Toss the carrots and move them to the edges of the pan. Place the fish, skin side down, in the center of the pan. Return the pan to the oven to bake for another 20 to 25 minutes, until the fish is just cooked through and the carrots are tender. Drizzle the remaining 1⁄4 cup dressing over the fish and carrots, garnish with the scallions, and serve immediately.