Fashion is all about the art of creation—and Black designers are at the forefront of this innovation. 
After working the iconic NYFW event for 28 seasons, veteran producer Nichole M. Bess decided to create NYFW BLK to celebrate and advance designers of color all over the world. 
For this premier event, taking place February 11-12 in NYC's famed Soho area, Bess will be wearing two hats as creator and designer for this year's show. Among the show's featured designers are Shaquita Garcia, designer of NYC streetwear line AART, Stephen Goudeau, creator of his eponymous brand, and Bess's line, the Marie Inez Collection. These designers spoke with Sweet July about how they are working to change the face of fashion and increase representation from the runway to the rack.
How would you describe the state of fashion today and the present role that Black designers play in the industry?
Shaquita Garcia: The amount of Black designers that I recognize on the streets of New York and onscreen is mind-blowing. We were lucky to design for big names in the past, but now WE ARE the big names.
Stephen Goudeau: Inspiring all artists of color that this is possible and you're able to follow all of your dreams is one of the main reasons I continue to move forward and strive for better. It gets hard at times. I've faced so many challenges on my path. Luckily, I have a spiritual, grounded foundation, an amazing team, family and supporters to remind me who I am and what I'm capable of. 
Nichole Bess: The industry has decided it's our time and we plan on running with it! The state of fashion is filled with sadness, I believe. We are losing more of the greats, especially in Black fashion. 
What are the biggest obstacles or challenges facing Black designers today in your opinion, and what do Black designers bring to the table that makes them dynamic?
Garcia: Black creators are the innovators. Nothing moves without us. Our biggest obstacle is large corporations adopting our concepts and making it their own. 
Goudeau: The biggest obstacle I can say is realizing your worth. You have to know your worth, or others will try to place their price on you. My prices are based on my talent, not the budget.
Bess: The biggest obstacle that faces Black designers is not having the proper financial assistance. Black designers bring what they've always brought and that is flavor, structure and timelessness.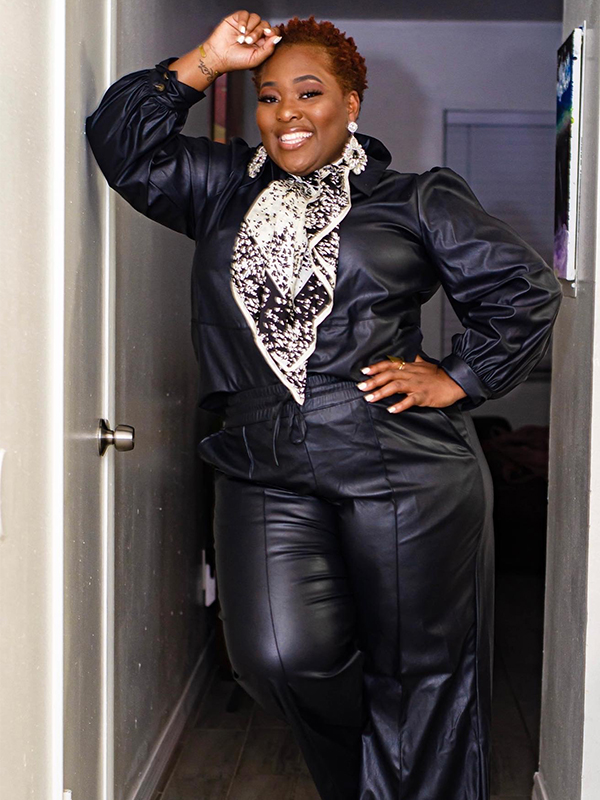 What do you love most about being a designer of color in these times?
Garcia: I fearlessly design what I like to wear, and I love that I can walk down the street in one of my designs and know that heads are turning because they have never seen anything like it. I'm inspired by my life's struggles. I take all of the negative energy from those obstacles and turn it into magic.
Goudeau: I saw a quote recently, "The world does not move without Black creativity," by Melissa Kimble. I wholeheartedly believe that. Our culture is such a huge influence on all of the world's industries today.
Bess: I just love being Black, that is the flex! I'm inspired by the love in my home. 
Who are some of the Black designers who've most influenced your work and informed your design aesthetic?
Garcia: If I had to state a Black designer who is undoubtedly influential, I would have to say Dapper Dan. 
Goudeau: Virgil Abloh, may his soul travel well. He really set the bar and showed us the importance of young people of color [having] vision in this industry.
Bess: Tracy Reese and Christopher John Rogers [are] two designers who scream "Classic Color."
If you could collaborate with another iconic Black designer or fashion icon, past or present, who would you choose and why?
Garcia: Kerby [Jean-Raymond] of Pyer Moss. His work is art, and that's what I'm truly all about. Creating fashion moments, not just clothes. 
Goudeau: Dapper Dan, most definitely. I had the pleasure to meet him and that was a [huge moment] in my career.
Bess: Byron Lars, because I loved Barbie and I was fortunate enough to have one…I couldn't believe that it was designed by a Black man. 
Who is your dream client?
Garcia: I would 100% say Grace Jones. Her style. Her aura. Her presence. She is my muse. 
Goudeau: Of course Beyoncé. Her curves are exactly what I design for. My goal as a designer is to help the woman find her "waistline" and Beyoncé always gets it right. 
Bess: My dream client is Tracee Ellis Ross.
These interviews have been edited and condensed for clarity.