Before Nana Meriwether was crowned Miss USA in 2012, she was headed down a path of medicine, desiring to follow in her dad's footsteps to become a doctor.  
Since then, her career has taken her in many different directions—journalist, model, philanthropist, athlete. But her vision of healing others would eventually manifest as her becoming a winemaker: her latest professional venture.  
Meriwether's interest in wine was born while traveling across South Africa with her mom, who owned a tour company and led many prominent groups across the country. It was the start of her wellness journey several years ago that encouraged her to explore an alternative to the traditional style of wine that was more suitable for her lifestyle.   
"In the fall of 2017, I found out after a routine doctor's visit that I was on the precipice of a chronic disease if I didn't change my health habits," Meriwether tells Sweet July. "I was shocked because at the time, I was in my early 30s, relatively healthy and already having to deal with health issues." Not one to wait, she took matters into her own hands. "I'm a writer, so I took a beginner's mindset, created a blog that documented my journey, and really dissected topics like intermittent fasting and meditation."   
Through her research, she discovered herbalism, which is the study of how herbs can be functional and beneficial for humans. "As I was apprenticing with an herbalist, I learned about herbal wines that are made from fermented herbs and botanicals," says Meriwether. "Wine isn't just made from grapes, but it can also be made from plants like dandelion and hibiscus." The process of fermenting opens up the cell wall of plants, which allows for different properties and minerals to be extracted. With that information, Meriwether was fascinated that a beverage like this didn't exist on the market.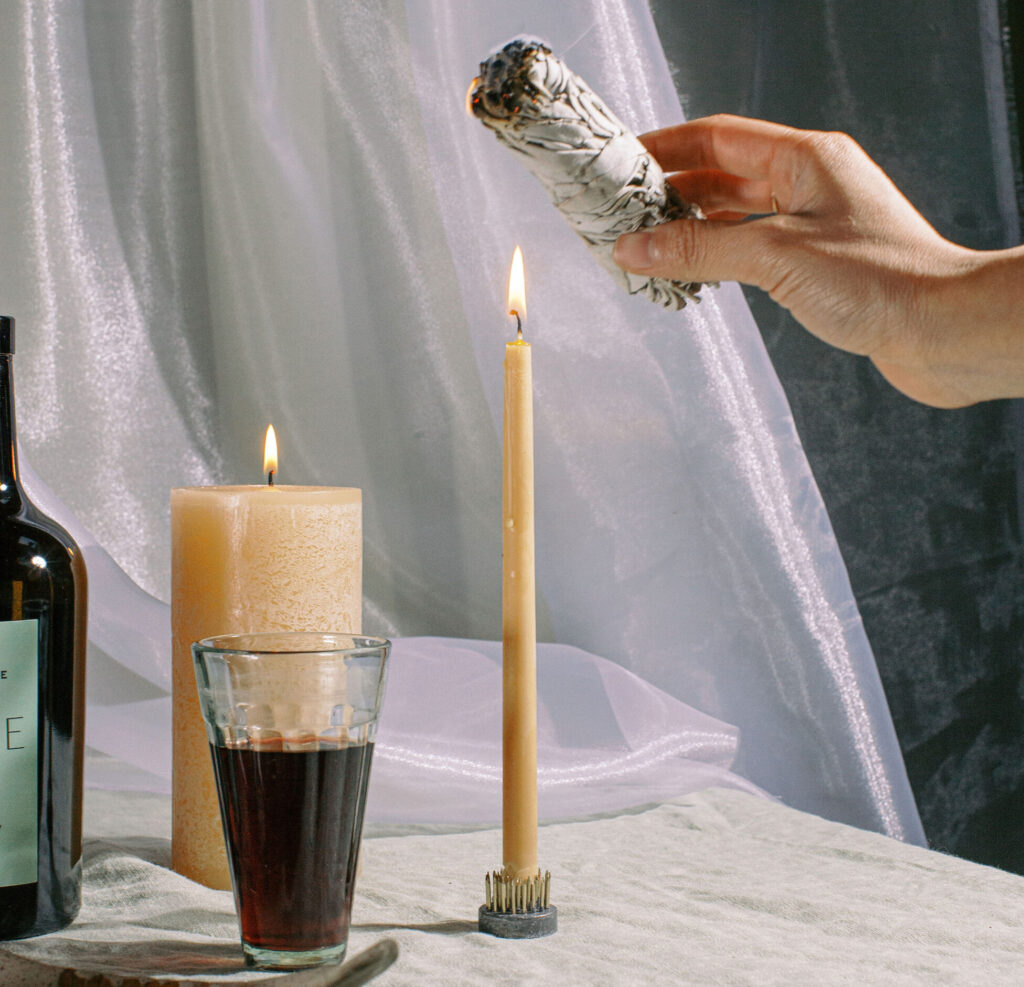 From these insights, 5ot9 Wine was born.  
Made using winemaking techniques modeled by the ancient Egyptians and Romans, 5to9 Wine is an herbal wine made for the weeknight. "I knew I wanted to build a product that could help consumers find balance," says Meriwether, of the brand she launched in 2021. Working with a winemaker in Napa Valley, Meriwether created two varietals—rose petal and elderberry—to represent a rosé wine and red wine. "We ferment organic rose petals, organic rose hips, and marigold flowers, and then add a touch of rosé wine so it's a bit more accessible to the palate."   
Meriwether says the elderberry wine, which is full of antioxidants and supports the immune system, is deeper and darker, and meant to be enjoyed on cozy nights. "During the week, I want to eat foods that work for me, so if I am going to indulge in a wine, I want it to be helpful and fortifying for me," she says.    
She also wanted to build a product that could help support a lifestyle that is both mindful, social and educational—highlighting how beneficial plants can be to the body. "With lowering the alcohol, we're really mindful about the sugar and the calories," says Meriwether. "It's almost like a wellness wine."  
As she was making wine in her mother's kitchen during the brand's early stages, Meriwether learned that her maternal grandmother brewed beer from native South African fruits and grains. "Part of what I'm doing is pulling from something that has been before—both from my grandmother and the ancient practice of herbalism," says Meriwether. "Sometimes when I'm in it, I really feel like there's women from the past helping me."   
Over the next few months, Meriwether says 5to9 will be releasing a line of organic wines made from four new varietals. She also hints, "There may be a book brewing within me that has to do with herbs and botanicals, I don't know." And as she continues her journey as a winemaker, she wants to remain as transparent as possible.  
"I just want to help wake women up to live out their dreams," says Meriwether. "Because when a woman rises, so many people can rise with her."