It's the first month of a new year—the time when many restaurants advertise their "mocktails" for people who are vowing to abstain from alcohol. But at Esmé, one of Chicago's most exciting fine dining restaurants, beverage director Tia Barrett doesn't believe in the term "mocktail."
"I take offense to it, because it's saying I am mocking a cocktail, that I am giving someone the lesser version," Barrett tells Sweet July. "But my drinks have been intentionally made with no alcohol. People might ask, 'Can't you just throw a shot in there?' and the answer is no, because I've carefully balanced that beverage to pair with a specific dish."  
When I visited Michelin-starred Esmé, a cozy restaurant nestled in Chicago's Lincoln Park neighborhood, I was struck by the creativity Barrett put into these non-alcoholic beverages. Each drink is intentionally curated to highlight the food Chef Jenner Tomaska—who also co-owns the restaurant with his wife and business partner Katrina Bravo—features on Esmé's seasonal tasting menu.
As I snacked on foie gras canapés shaped like lips, the first example of Barrett's innovation with non-alcoholic drinks made itself clear: a FRE Sparkling Brut that had the alcohol centrifuged out of it, a technique that's complicated but can result in the most compelling non-alcoholic Merlots and Chardonnays as well. It was stunningly delicious and, to my tastebuds, better than the alcoholic champagne we were also served (Esmé also has an extensive selection of alcoholic cocktails and wine for pairings).
Finding the perfect non-alcoholic sparkling wine was a challenge, Barrett says, but bubbly happens to be her "rabbit hole." Once she found FRE, the demand for it at Esmé has been staggering. For Barrett, it shows that there is a market in the industry for non-alcoholic drinks, also proven by the fact that consumer demand for non-alcoholic beverages rose by 20 percent in 2022.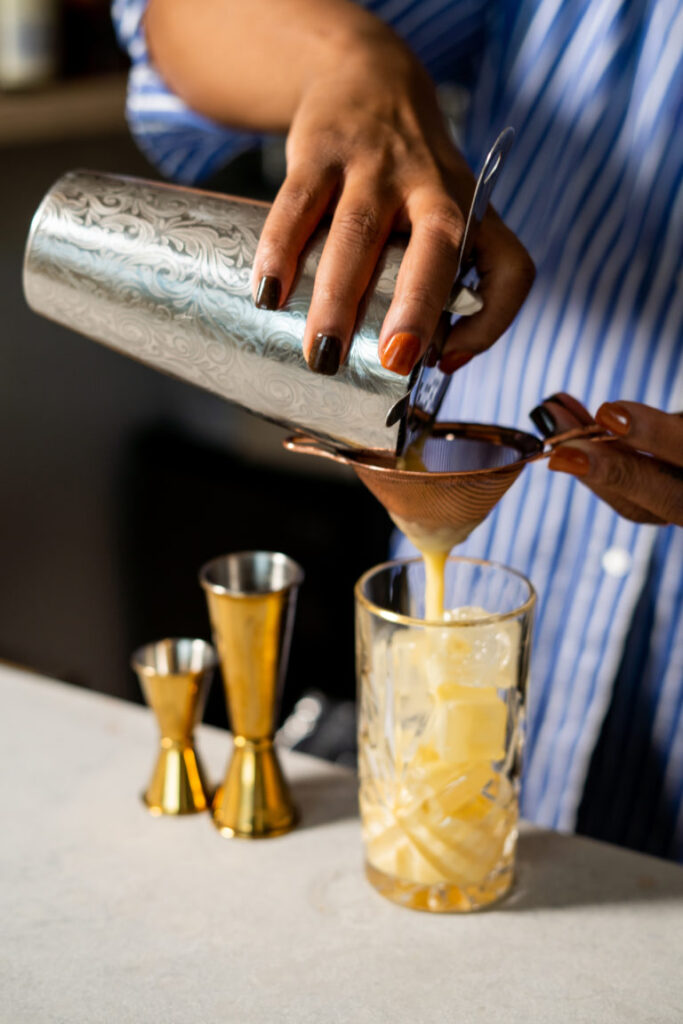 When I went to Esmé, I brought along my friend and James Beard award-winning food writer, Ahmed Ali Akbar. As a Muslim, Akbar abstains from alcohol. Barrett's creations paired with Jenner's menu was a totally new experience for him. "Because I don't drink alcohol, I've never really understood or been able to participate in pairings," he told me as we left the restaurant. "Before, it felt like I was missing half of the tasting menu. Now, I get it, and I really appreciate the intentionality of offering something like this."
Akbar and I were particularly impressed by Barrett's beverage pairing for Chef Tomaska's dish inspired by his Polish grandmother's cooking—a pierogi nestled in a lake of charred red onion broth and topped with shaved black truffle. It wasn't part of the planned menu; Barrett invented a non-alcoholic drink just for us on the spot. The cocktail was served warm, and it almost seemed like a cup of chai until I tasted smoke with a strong bacon scent—I later learned that was from the inclusion of smoked black tea. When I tried it without the food, I didn't like it. But when I tasted it with the food, it was unimaginably delicious. That, Barrett told me excitedly, is how it's supposed to be. "You may or may not enjoy the drink on its own, but the intention is when you have it with the food, that magic moment happens," she says. 
Barrett's personal style is chic. During our interview, she wore Chanel earrings, a printed turtleneck dress, and painted nails that reflected Esmé's current tones of amber and orange, which you can find across the restaurant's decor, food and Barrett's non-alcoholic beverages. It's all perhaps part of what Barrett calls one of her deepest aesthetic obsessions: layers.
"I like layers of clothing, visual layers, but I'm also interested in the layers of the subconscious, things being hidden underneath something," she says. That act of layering is especially critical when making her non-alcoholic beverages. "I think about your front palate, your mid-palate, your back palate. I think about how something tastes when you first have it. What is the texture? And then having that texture meet the aroma. How does it taste with food? Without food? What is the last taste that you get, how does it finish? All of those layers make one drink."
Part of what forms this unique signature is Barrett's upbringing. Her parents are both from Jamaica—her father is from Kingston and her mother is from Oracabessa. Barrett has been strongly influenced by Jamaican flavors, especially the famous hibiscus drink sorrel.
"Sorrel is my favorite Caribbean drink and my mom makes it every year," says Barrett. "And I love rum. With a Jamaican family, it was such an integral part of growing up. My mom used to rub it on my chest when I was sick."
Learning about rum not only helped Barrett connect with her culture but also other cultures. "When I speak with Polish people, [I learned] they did the same thing—using vodka as medicine. I really love seeing how drinks fit into people's families and culture," she says.
With artists like her paving the way, it's likely we will see more creativity in hospitality—all the months of the year. "It's a lot of trial and error," adds Barrett. "There is definitely a shift in the current market of people being more accepting of non-alcoholic drinkers and not just being left with a Shirley Temple like an afterthought."