For Caribbean Heritage Month—or any time of year—try your hand at these dishes that represent the rich techniques, flavors and ingredients of West Indian and Jamaican cuisine.
We enjoy seafood any time of year, but it's extra satisfying during the warm summer months.
This spicy shrimp dish is ready in minutes and packed with a ton of flavor. Pair it with something crispy, like twice-fried plantain—which do double duty as a side but are also a delicious vessel to sop up the buttery sauce left over from the shrimp. Spice loves something cool and refreshing, and this simple avocado cream does the job.
Spicy Shrimp with Crispy Plantain and Avocado Cream
1 lb jumbo shrimp, peeled and deveined 
1 tbsp olive oil
3 tbsp unsalted butter
Juice of half lime
1 tbsp garlic, minced
1/2 tbsp red pepper flakes 
1/2 tsp kosher salt
1/2 tsp black pepper
For Crispy Plantains
Two unripe green plantains 
Oil for frying
Salt to taste
For Avocado Cream
1 large avocado, pitted 
1/2 cup greek yogurt
1/2 tbsp dark brown sugar
Juice of one lime
1 clove garlic
2 tbsp fresh cilantro
Salt and pepper, to taste 
Heat olive oil in a large skillet over medium-high heat. 



Pat dry shrimp and season with salt and pepper. Add to pan and cook for 1 minute. Add garlic and turn to cook for another minute. Add butter and red pepper flakes, and cook until melted. Remove from heat, add lime juice and toss to coat. Serve hot with crispy plantains and top with avocado cream.
 
For Crispy Plantains
Heat 2 inches of oil into a pan over medium-high heat. 



Slice skin of plantain and remove before slicing plantain into 1-inch slices. 



In batches, cook plantain in oil for 4-5 minutes. Remove from oil and cover with parchment paper. Using a coffee mug or small plate, press down on each piece of plantain to flatten it down. Place back into the oil and fry for another 2-3 minutes, frequently turning until golden and crisp. Remove from oil and season with salt to taste. Drain well and serve hot. 


For Avocado Cream
In a food processor, add all ingredients except salt and pepper. Pulse until well combined and smooth—season with salt and pepper to taste.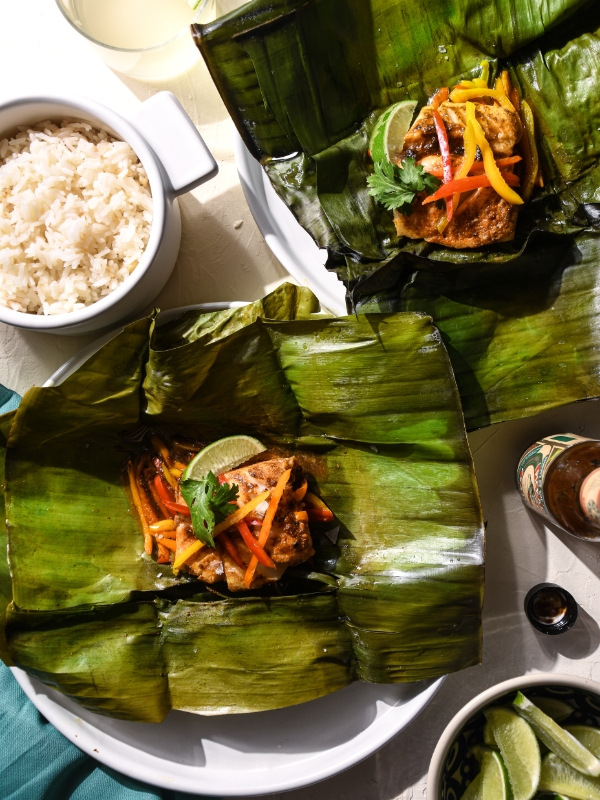 Wrapping fish in banana leaf is an easy technique to get a juicy, flavorful result.
The recipe works equally well in a hot oven or over a grill—either way, the steam inside the banana leaf will gently cook the fish while infusing it with all the delicious ingredients you pack inside. Our recipe includes bell pepper, lime and a healthy spoonful of Pickapeppa sauce.
Banana Leaf Wrapped Red Snapper
4 4-6oz. red snapper (cod will work if you can't find red snapper) 
4 12-inch banana leaves (can be found fresh at most international grocery stores or in the frozen aisle) 
Olive oil
1 red bell pepper, seeded and thinly sliced 
1 yellow bell pepper, seeded and thinly sliced 
2 limes, thinly sliced 
Pickapeppa sauce (found in the international aisle by condiments) 
1 tsp sweet paprika 
1 tsp garlic powder 
1 tsp dark brown sugar 
Salt and pepper, to taste 
Preheat the oven to 400 degrees.

In a small bowl, mix spices and brown sugar. Set aside. 

Divide and lay sliced peppers on the center of each banana leave. Lightly season with salt and pepper.  

Drizzle olive oil over fish, and season with spices, salt and pepper on all sides. Place the fish on top of the peppers, and top each filet with about 1 tablespoon of pickapeppa sauce. Top with 2-3 thin slices of lime. Fold each side over the fish to close, making sure there are no cracks or corners where steam can escape. Place the sealed side down on a baking dish. 

Bake at 400 degrees for 15-20 minutes, until cooked through. Serve warm in packets alongside coconut rice and some ginger beer. 
A fruity, fizzy, ice-cold punch is a great way to enjoy a hot summer day.
This punch features none other than some good Jamaican rum, along with tons of fruit juice and a little spice from ginger beer. It's smooth and oh so refreshing—a perfect complement to any spicy, bold dishes you may be serving with it. Mix up a pitcher and enjoy with friends.
1 1/2 cups dark rum
1 cup freshly squeezed orange juice 
1 cup pineapple juice 
1/2 cup ginger beer 
1/2 tbsp grenadine
2 tbsp lime juice
Fresh lime and orange slices, for garnish 
Ice, for serving 
In a large pitcher, combine rum, juice, grenadine, ginger beer and lime juice and stir well. Serve poured over ice and garnish with fruit slices.