Classic waffles are upgraded with cornmeal and a Chinese five spice-infused churro topping.
Sweet July resident Will Coleman shares a recipe for cornbread churro waffles perfect for gathering friends for a Pride brunch celebration or a just-because occasion. Get the details below!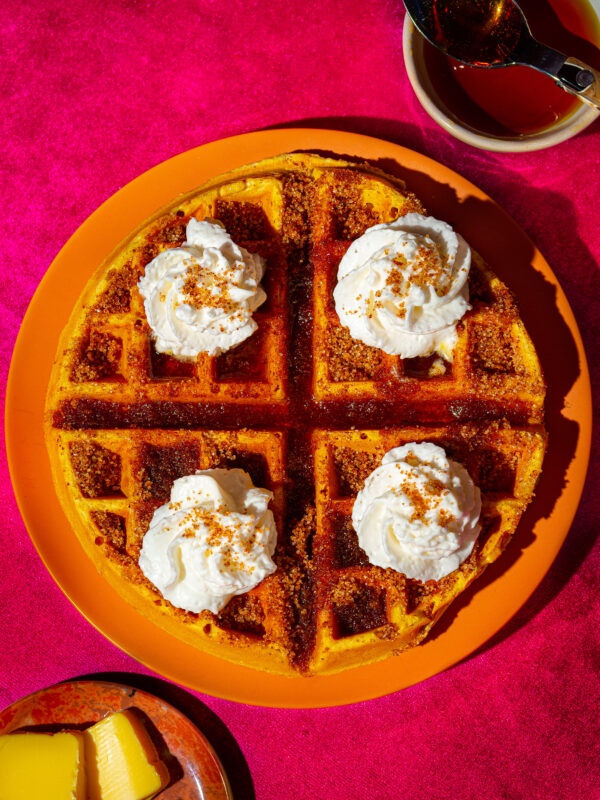 Will Coleman's Cornbread Churro Waffles
FOR CHURRO COATING
1/2 cup granulated sugar
2 tsp ground cinnamon
1 tsp Chinese five spice
1/2 tsp kosher salt
FOR WAFFLES
1 cup medium grind cornmeal
1 1/3 cup buttermilk
1 cup all-purpose flour
1/4 cup cane sugar
1 tsp ground cinnamon
2 tsp baking powder
1/2 tsp baking soda
1/2 tsp salt
2 eggs
1/4 cup melted unsalted butter, cooled
1. Churro Coating Instructions: In a large bowl or baking sheet, combine the sugar, cinnamon, Chinese five spice and salt. Set aside.
2. Waffle Instructions: In a large bowl, combine the medium grind cornmeal and buttermilk. Let it sit for 10 minutes. Meanwhile, preheat the oven to 375°F and spray an 8×8-inch baking pan. Set aside.
3. In another bowl, mix together the flour, sugar, cinnamon, baking powder, baking soda and salt. Add this mixture to the cornmeal mixture along with the eggs and melted butter. Stir until thoroughly combined.
4. Preheat the waffle iron to medium heat.
5. Pour the batter into the waffle iron and cook until the waffles turn golden brown and crispy. Repeat this process until all the batter is used.
6. Once the waffles are cooked, immediately place them into the cinnamon sugar mixture. Make sure to coat each waffle thoroughly.
7. Serve the churro waffles immediately with whipped cream and maple syrup.