Upgrade your lunch game with this pan seared salmon wrap featuring a tasty parmesan aioli.
Packed with Omega-3 Fatty Acids, salmon has amazing benefits for brain health and cognitive function to keep your mind right. This recipe from Sweet July resident Charlotte Smythe is everything we love about the fish in a deliciously convenient wrap.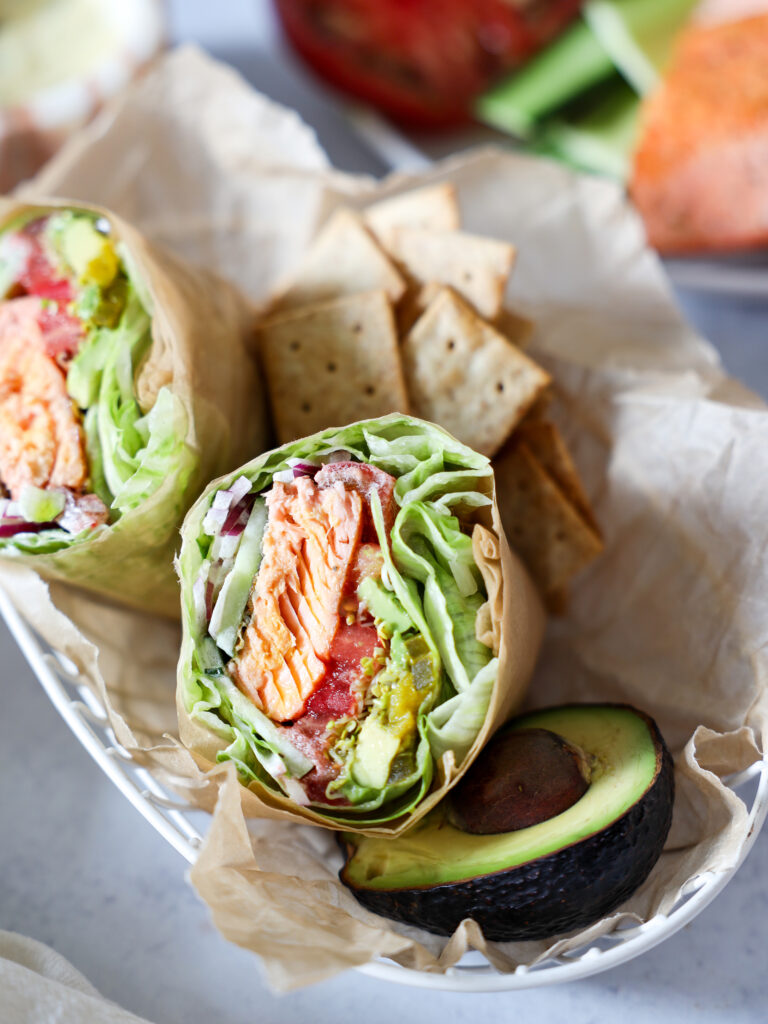 Charlotte Smythe's Salmon Lettuce Wrap
Start to finish: 45 minutes  
Serves 
4 people
FOR GARLIC PARMESAN SPREAD
4 cloves garlic, roasted
1/2 cup kewpie Mayo
1 tbsp mustard
2 tbsp grated Parmesan cheese
1 tbsp lemon juice
1 tbsp freshly chopped chives
Salt and pepper
FOR WRAP
1 lb salmon or (4) 4-ounce fillets
Salt and pepper
1 tbsp ghee or avocado oil
12 large iceberg lettuce leaves
Half a large red onion, thinly sliced
1 cucumber, halved and thinly sliced
1 large heirloom tomato, cut into thick slices
A few handfuls of broccoli sprouts
1 avocado, sliced
Pickled jalapeños or pepperoncini
1. To begin, preheat the oven to 400°F. Place the garlic cloves in the center of a piece of aluminum foil. Season with salt, pepper and olive oil. Fold the foil closed, transfer to the oven and roast for 30 mins.
2. To make the garlic Parmesan spread, use a mortar and pestle to crush the roasted garlic (or use a fork). Now add the rest of the ingredients needed for the spread, stir until well-combined. Season with salt and pepper to taste. Set the spread aside.
3. Now, season the salmon fillets with salt and pepper. Heat the ghee or avocado oil over medium-high heat and sear the salmon, skin side down, for 3 minutes. Then flip the fish and continue to cook for another 2 minutes. Remove from the heat and set aside.
4. Now, assemble the wraps. Lay 3 pieces of lettuce on a large piece of parchment or wax paper. Spread a couple tablespoons of the garlic Parmesan spread in the middle of the lettuce leaves followed by a few pieces of onions and cucumbers, one piece of salmon, one slice of tomato, a handful of broccoli sprouts, a few slices of avocado, and pickled jalapeños. I like to drizzle a little olive oil on top and finish with cracked black pepper. Use the parchment or wax paper as a guide and tuck and roll the lettuce up, as tightly as you can, starting at the end closest to you.
5. Once completely rolled up, cut the sandwich in half and enjoy immediately. Serve any extra spread on the side to use as a dip.