This dish is deceivingly simple to make

—

given how incredibly rich and delicious the sauce tastes.
Which makes this a perfect meal for a busy weeknight. You can easily get this entire dinner done in under 30 minutes by making your rice and sauce while your fish cooks. We like mahi mahi because it's mild and pretty widely available, but you can easily swap in another fish you prefer like salmon, swordfish or cod—which all work just as well.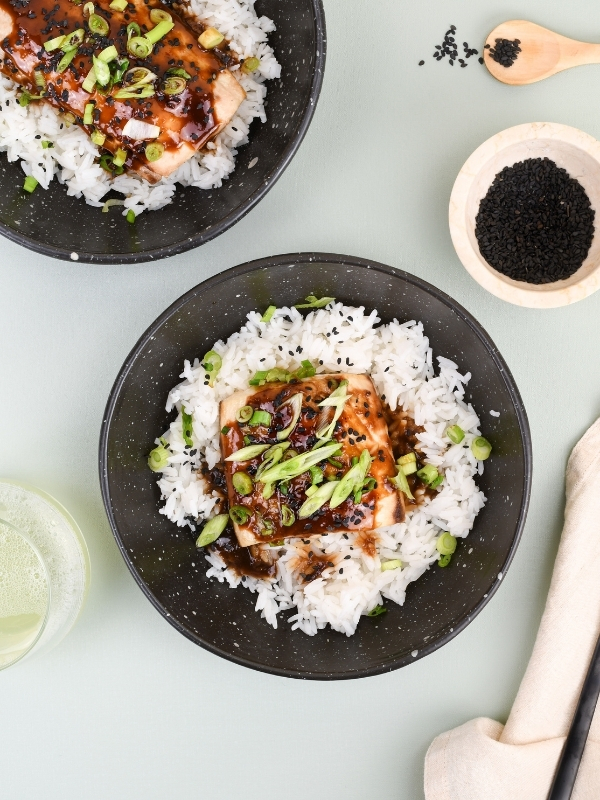 2 mahi mahi filets
1/2 cup mirin
1/4 cup miso paste
1/2 cup dark brown sugar
1/4 cup soy sauce
1 1/2 tbsp fresh ginger, peeled and grated
Olive oil
Scallions (for garnish, optional)
Sesame seeds (for garnish, optional)
Preheat oven to 400 degrees.



Brush each filet with olive oil and season with salt and pepper on both sides. Place on a sheet pan and bake for 15-20 minutes (depending on thickness), until the texture flakes easily and the fish is cooked through. Set aside.



To make the sauce, add the mirin, miso paste, dark brown sugar, soy sauce and fresh ginger to a medium skillet. Heat over medium high and stir continuously until the ingredients are well combined and the sauce slightly thickens (about 4-5 minutes). Remove from heat.



Spoon sauce over the fish and serve over rice. Garnish with sliced scallions and sesame seeds.